Commanders!
The warfare of King of the Sea spreads to Asian water territory for the first time. Are you prepared, commanders?
---
What is the King of the Sea?
Together with passionate WoWS community and support of Wargaming, Deep Sea Tournament buddies has ran competitive events such as the EU vs Asia Server Clash on Asia server for a while. 
Now King of the Sea(KotS) is brought upon us.
KotS is a tournament originated in EU server. It has been ran through 5 seasons, and extended to RU and NA in recent seasons. Now for the first time, King of the Sea is coming with its international Season 6. And at the end of the season, Asia champions will face the challenge of the top teams from NA, will they prevail again as the previous time when facing up against EU elites?
Among other great prizes, the teams are fighting also to be crowned as the king: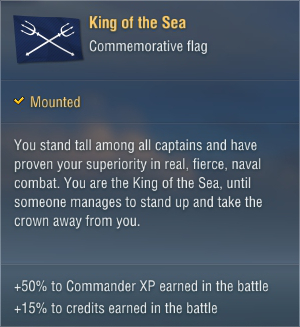 The flag is only ever given to one team, the winning team needs to defend the title in the next tournament to keep the flag.
NOTE: This tournament will be hosted by World of Warships Community. Wargaming does not have any control of the tournament.
How Can I Participate?
If you have a min 9 players and max 12 players roster ready, just click the link and register your team!
Sign-up will be open:

20/04/2018 @ 18:00 UTC+8
Please check the ruleset carefully before you register.

For schedule, prize and other information, you can find them in our announcement post here.

 

Action Stations!