Captains!
The results are in. After many days of fierce battle, a new King has been crowned!
This weekend the top teams of the EU and CIS servers came together in Saint Petersburg to battle it out over the prestigious title under the trained eyes of our hosts Crysantos and MrConway, along with special guests Izolate, Flamu, and the Mighty Jingles!
Without further ado, give a well-deserved salute to the team representing the EU region Rejective and Idealistic Narcissists [RAIN] as they occupy the coveted throne in the international finals, soundly defeating the CIS representatives.
---

[
RAIN

]
---
We of course congratulate and praise the CIS finalist team Smile Gaming [SMILE], as well as the third place winner [SABRE], and fourth place [OM], who while in the end couldn't come out on top, fought tooth and nail until the very end and refused to go down without a fight.
Watch all the finals matches below!
The King of the Sea flag is only ever given to one team on the entire EU server, the winning team needs to defend the title in the next tournament to keep the flag.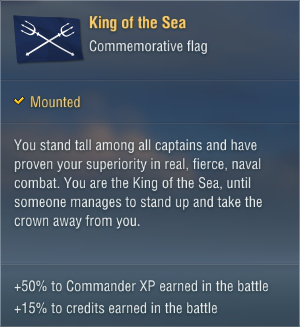 30 days Premium Account
30x 

 

Exclusive Tournament Camouflages (FTW)
10x 'Dragon', 'Wyvern'

, 'Ouroboros'

, 'Hydra'

, and 'Red Dragon'

 Signal flags

2,000 Doubloons  

Any available Tier VIII Premium ship of their choice
---
EU Finals
---
International Finals
---
Action Stations!