Captains!
Ever gone in to look at the skills of some of your oldest commanders, only to find that their build is anything but optimal? Wanted to try out some crazy build on your favorite ship, but just couldn't get enough resources together? Then there's never been a better time to change that!
With the arrival of Update 0.8.0 to World of Warships, the aircraft carrier class has changed dramatically, and so have some of the associated skills. Some Carrier players will no doubt be curious about the reworked skills, and other commanders will want to adapt as best possible to the new threat from above and play around with AA-related skills. For these reasons, we've decided to give everyone the chance to redistribute skill points and retrain commanders with a 100% discount. That's right:
Starting January 31, you will have eight days to get your commanders into shape for free!
That means that if you respec a 19-point commander now, you'll be saving 475 Doubloons or 190,000 Elite Commander XP!
Discount starts:
2019/01/31 @ 13:00 (UTC+8)
/ your local time: 2019/01/31 @ 06:00
Discount Ends:
2019/02/08 @ 13:00 (UTC+8)
/ your local time: 2019/02/08 @ 06:00
Please note: We've noticed your concerns that 1-week free commander skills and upgrade reset that came with 0.8.0 is not enough to properly adapt all your ship builds for the new evolving meta.
We agree with you and hereby announce that there will be another 1-week period of free reset in approximately 2 months, around the release of Update 0.8.2.
100% Discount

on Commander Skill Redistribution

100% Discount on Commander Retraining

100% Discount

 on Upgrade Demounting
---
Share your builds!
Before you go wild with that 'Redistribute' button and change all your commanders, you'll probably want to take a moment and think carefully about what you want your freshly trained captains to look like. What builds work best for you? Can you come up with any unique Commander setups?
Try out our Commander Skill Builder tool, with which you will be able to experiment with different configurations that suit your playstyle. Once you've found the build that works for you, you can use the integrated URL generator to share your creation in the forum topic!
Show off those builds in the topic and lend a helping hand to fellow Captains in need! 
Have questions or doubts about how to squeeze the most potential out of one of your ships? Ask away!
Keep in mind, aircraft carrier-related skills, as well as AA skills, have been largely reworked with the new Update. If you want a breakdown of how all the new skills work, check out our dedicated publication.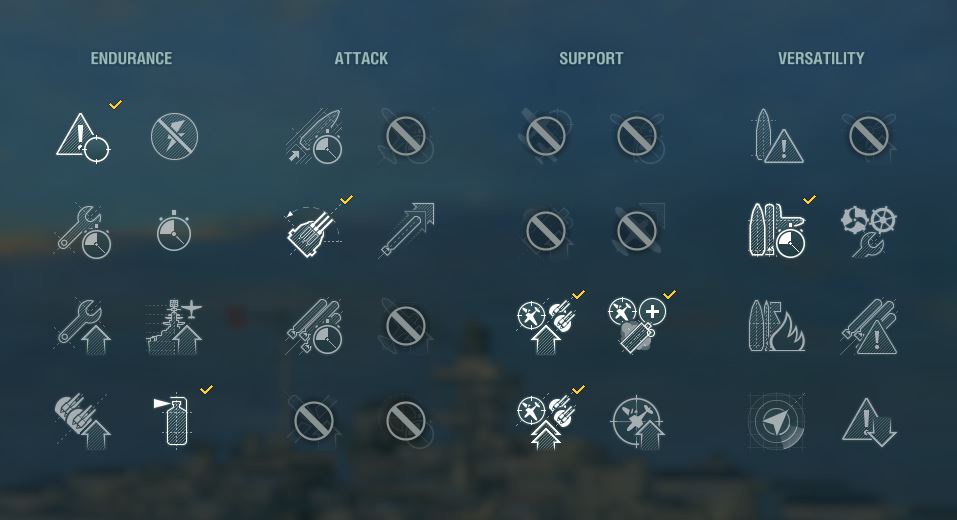 MrConway's
VIII Tirpitz build.
Perfect for aggressively annexing capture points for the Blue Team, under strong secondary cover!

Share your favorite builds in the forum topic below!
---
Need a hand?
If you're still unsure about how to spec your commander and feel like you need a coherent guide to help put things into perspective, be sure to visit the World of Warships Wiki. There you will find detailed information about each and every one of the hundreds of ships in-game, including detailed charts with recommended skills for particular vessels.
Please note that the information on the Wiki is kept and updated by volunteers, and not all ships' builds will be represented in equal detail.
Also, keep in mind that skill priorities on some ships may have shifted with the introduction of the new aircraft carrier mechanics.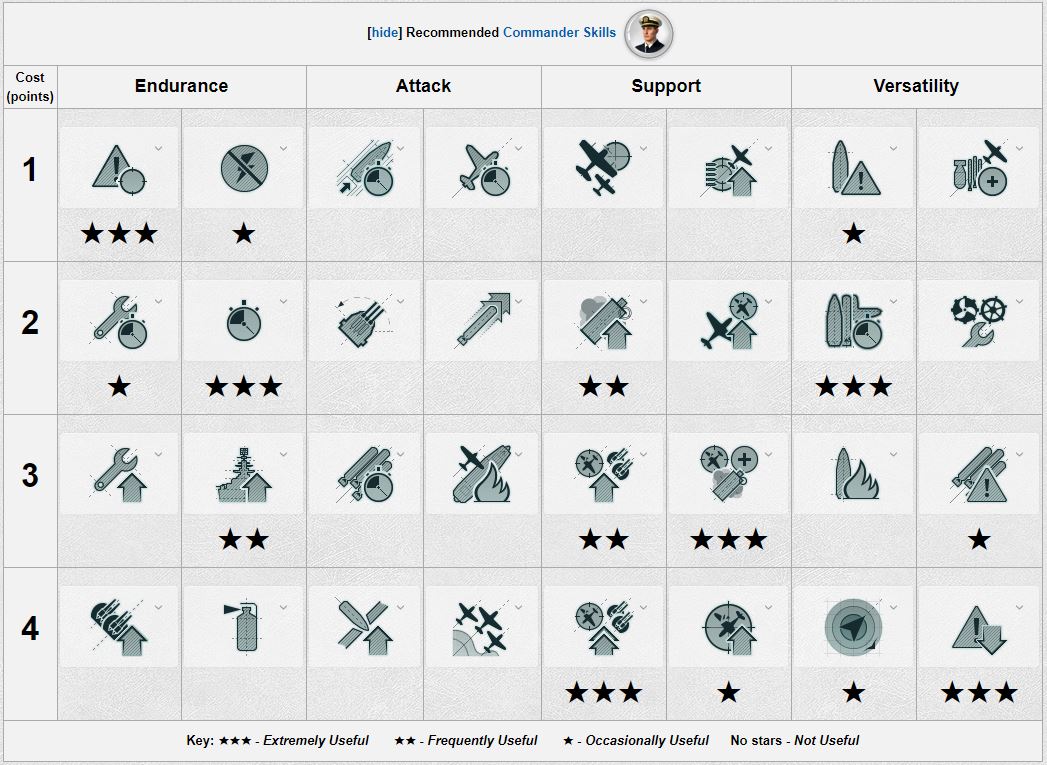 Recommended skill points on the
X Minotaur's wiki page.
Go deeper…
The Commander skills you choose can radically change the playstyle of a certain ship. Often times, one ship will benefit far more from a specific skill than another of the same tier. Sometimes this difference can be easily spotted, but there's a lot of math going on behind the scenes when you're playing the game, and subtle differences in things such as gun caliber or torpedo speed can spell the difference between a well-invested skill point or a wasted one. To better our understanding of the game's mechanics, we've prepared a series of videos that can be found on the World of Warships YouTube channel:
---
Know of any good online guides? What do you use to help forge the perfect commander? Share them in the forum link below!
Action Stations!